If you went through your lingerie collections right now, would you find bras and panties that you rarely wear? Let's think about why. It could be that you don't like it anymore. Or it could have been your perfect everyday bra, and you got bored with it. But it's more likely that there are two reasons for avoiding them. One: It's worn out and doesn't fit you anymore. And two: It doesn't flatter your body shape.
Your shape is an essential thing to consider when choosing bras, panties, or any kind of clothing. There are styles available for each body shape and breast type. And that's why we came up with the Lingerie 101 body shape series,suggesting bras and panties for different body shapes. As expected, it turned out to be a massive hit, and our readers are enjoying the personalised styling tips.
In the past, we have seen bras and panties suitable for apple, rectangle, triangle, and hourglass body shapes. Today, we'll talk about bras and panties for an inverted triangle body shape. Let's look at your options.
Know Your Inverted Triangle Body Shape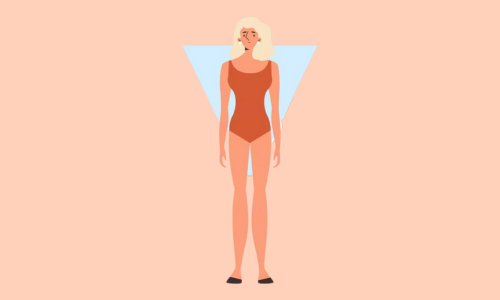 An inverted triangle body shape is very sporty and has an athletic physique. It looks like the letter "V" with broad, straight, and square shoulders. With beautifully shaped legs, the shoulder and bust measurements will be larger than the hip measurements. To be specific, the shoulder or bust measurement is 5% bigger than the hip measurement. The inverted triangle shape is also referred to as the V-frame, strawberry, carrot, or cone.
What are the Characteristics of an Inverted Triangle Body Shape? 
Broad and wide shoulders, chest, and back
Small or big bust size
Narrow hips
Less or no waist definition
Flat bottom
Beautifully shaped legs
How Do You Know You Have an Inverted Triangle Body Shape? 
It's simple math. Use a measuring tape, a pen, and paper to measure your body size.
How to Measure? 
Follow the 4-point rule and note down the measurements.
Shoulder (widest part)
Bust (apex of the chest)
Waist (above the belly button)
Hips (widest part)
How to Calculate? 
Now compare the measurements. If your shoulder measurement is 4 inches bigger than your hip measurement, then you have an inverted triangle body shape. Secondly, if your bust measurement is 2 inches larger than your hips, you have this shape. You can also use this formula: shoulders (or bust) ÷ hips ≥ 1.05 to confirm an inverted triangle body shape. To make it even more simple, if your shoulder or bust is 5% bigger than your hips, then you have this v-frame body shape.
How to Buy Bras for an Inverted Triangle Body Shape?
For this type of body, you need to create the illusion of a balanced hourglass shape by reducing the heaviness of the upper body. To achieve balance, you must keep it simple. Choose seamless bras, non-padded bras, and full-coverage bras with broad shoulder straps that complement the wider shoulder. Strapless bras and tube bras are ideal styles that don't add too much volume to the top.
What are the Best Bras for an Inverted Triangle Body Shape? 
Bra Styles/

Features

Image

Description

Full Coverage Bra
It gives good support to the bust and doesn't add too much heaviness to the look.
Non-Padded Plunge Bra
It gives you cleavage effortlessly.
Balcony Cup Bra
It secures the breast in position and gives a gentle lift.
Seamless Bra
Soften the upper body with this lightweight seamless bra that hugs your bust gently.
Deep U Neck Bra with Leotard Style Back

A deep and narrow 'U' front and back is great for broader shoulders.
Fancy Back Bra
This is a perfect choice for small busts and broad shoulders. The T-back elongates your silhouette.
Thick Strap
Choose bras with thick straps to support broad shoulders.
Tube Bra
Wear a tube bra to avoid adding weight to your shoulders.
Moulded Bra
Keep the upper body uncluttered and clean with this moulded bra.
Strapless Bras
It is a great way to show off your shoulders without adding volume to the shape.
What Bras Should You Avoid if You Have an Inverted Triangle Body Shape? 
You must avoid bras with thin shoulder straps because they will make your shoulders look bigger and broader. It is also advisable to avoid heavy details and lace work on the shoulder straps, as they draw attention to the shoulders.
Complete Panty Guide for Inverted Rectangle Body Shape
How to Buy Panties for an Inverted Rectangle/Strawberry-Shaped Body? 
This type of shape tends to have a heavier top, so the focus should be more on the lower body. Panties for inverted rectangle body shapes should have prints, lace, frills, and embellishments to balance the athletic figure. Find panties that widen the appearance of the hips to balance the whole silhouette. The whole idea is to add a delicate, feminine look to the hips.
What are the Best Panties for an Inverted Triangle Shape? 
| | |
| --- | --- |
| Panty Styles/Features | Description |
| Low-Rise Panty | This gives a good outline and highlights the hips. |
| Prints and Patterns | Interesting prints and patterns add volume to the hips. |
| Horizontal Prints | Wearing panties with horizontal prints is a way to draw attention to your lower body. |
| Thong | It is a sexy option for an inverted triangle body shape. |
| Lace Panty | Lacework adds extra volume to the lower body. |
| Panty with Wide Waistband | A wide waistband defines the waist and adds volume to the bottom part. |
| Bright Colour Panty | Wear brighter colours to grab attention and visually lengthen your legs. |
What Panties Should You Avoid for an Inverted Triangle Body Shape? 
You should strictly avoid panties with a skinny fit and seamless panties because they don't add volume to your lower body.
Final Words
There are many things to consider when choosing your bras and panties. If you want a bra that fits perfectly, then you need to be aware of your body shape and choose styles that fit you. We've talked about different body shapes as well as breast types. If you still have difficulties finding your bra size or want bra and panties suggestions for a specific outfit, do reach out to us. Follow this space for our next blog on Indian outfits and suitable bras.