In the last few posts, we've been suggesting lingerie for each bras and panties that you'll love, wear for a long time, and flatter your figure. Today, we'll discuss the most suitable bras and panties for the hourglass body shape.
Know Your Hourglass Body Shape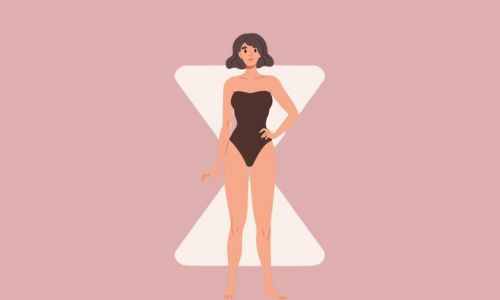 An hourglass body shape is a very desirable and feminine type of body. The hip and bust measurements will be equal in size, with a narrow waist. It is a balanced shape with a defined waist. To be precise, the waist will be 25% smaller than the bust and hips. The hourglass body shape is also referred to as the X-frame or figure 8.
What are the Characteristics of an Hourglass Body Shape? 
Bust and hips of the same width
Defined/Narrow waist
Round shoulders
Full/Small/Large bust
Round hips and bottom
Bigger/Curvier thighs
Elongated legs
How Do You Know You Have an Hourglass Body Shape? 
It's simple. Follow the instructions given below. You'll just need a measuring tape, a pen, and paper.
How to Measure? 
Use the measuring tape to measure 4 points along your body and note down the measurements.
Shoulder (widest part)
Bust (apex of the chest)
Waist (above the belly button)
Hips (widest part)
How to Calculate? 
You must compare the measurements. If the waist measurement is at least 8 inches less than your shoulder/bust/hip, then you have an hourglass-shaped body. Or simply, if your waist ÷ shoulders (or bust) ≤ .75 or your waist ÷ hips ≤ .75, you have an hourglass body shape. In other words, the waist should be 25% smaller than your bust, and the hips and shoulders should be within 5% of each other.
How to Buy Bras for an Hourglass-Shaped Body? 
For this type of body shape, you need to choose simple bras that don't clutter up your silhouette. You need bras to support and maintain the natural shape and size of your breasts. To achieve this, you'll need matching lingerie sets that don't add unnecessary volume to highlight your bust.
What are the Best Bras for Hourglass Body Shape? 
| | | |
| --- | --- | --- |
| Bra Styles / Features | Image | Description |
| Wired Bra | | Wear this type of bra to get the support you need to lift your bust. |
| Moulded Bra | | You'll need this type of breast to naturally shape, style, and lift the bust without adding extra volume. |
| Banded Bra | | Wear bras with bands that extend below the bra cups to achieve a perfect silhouette. |
| Plunge Bra | | This bra helps create a vertical look without adding volume. |
| Non-padded Bra | | It will complement your shape and highlight your curves. |
| Full Coverage Bra | | A simple full coverage bra can flatter this body shape and provide all-day comfort. |
| Matching Lingerie Set | | Coordinate your bras and panties for an hourglass body shape to achieve a perfect balance with the rest of the body. |
Panty Guide for Hourglass Body Shape
The common panty problem for hourglass body shape is finding underwear that doesn't look bottom-heavy and creates an unbalanced body frame. The solution is to find panties that follow a natural silhouette by paying proportional attention to the bottom of the body.
What are the Best Panties for Hourglass Shape Body? 
| | |
| --- | --- |
| Panty Styles | Description |
| Cotton Panties | Classic cotton panties are best for hourglass body types because of their simple and clean design. |
| Mid-waist Panties | They are so good because they will not widen the hips. |
| High-waist Panties | They will contour and make your waist look smaller. |
| Panties with Wide Waistband | Wear this style of panties to make your legs look elongated. |
| Shapewear Panties | Shapewear panties will streamline your curves and thighs. |
Final Words
We hope this guide helps you choose the best bras and panties for your hourglass body shape. If you don't have an hourglass shape, check out our triangle body shape, apple shape, and rectangle shape, or stay tuned for our next blog on inverted triangle shapes.