1. Decide to Buy the First Bra for Your Daughter
As parents we always see our children as kids no matter how much they grow out of their childhood. Buying the first bra for daughter can be overwhelming for both of you from many aspects. It is always good to introduce training bra when she turns 11 year old. But the age can vary depending on the level of physical development. Hence there is no fixed age for wearing a training bra. Also it is better to consider getting your daughter bras if her friends are wearing to make her feel confident among her peers.
2. Find out the Reasons to Buy a Teenager Bra
Getting bras for girls is as important as getting her the right type of bra. A beginner's bra or teenager bra is the best for young girls who have started developing breasts. They are very soft on the skin and stretchable giving enough room for the growing breasts.
3. Explore Different Types of Bra for Teenagers
Explore different types of bra available for teenagers
There are different types of bra for teenagers to choose from as there are many sold under the category of "teen bras". But it is necessary to choose age-appropriate styles as many bras are not suitable for the tender breasts which are still in the developing stage.
Which Type of Bra Should a Teenager Wear?
Here are the few types of bras for your teen girl to wear

Lightweight
Single-layer cups
Thin elastic band and soft cups
Gives good coverage
Simple bra without too many constructive details
Seamed or seamless
Good coverage
Gives the feeling of wearing typical bra

Made of lace
Unlined
Stylish
Gives support
Padded or unpadded
Slip on type
Padded or unpadded
No hook closure
High neckline
Full coverage

Layered cups
Extra support
Stylish
Different neck options
Strapless
No hook closure
Slip on type
Adds layer
4. Use a Teenager Bra Size Chart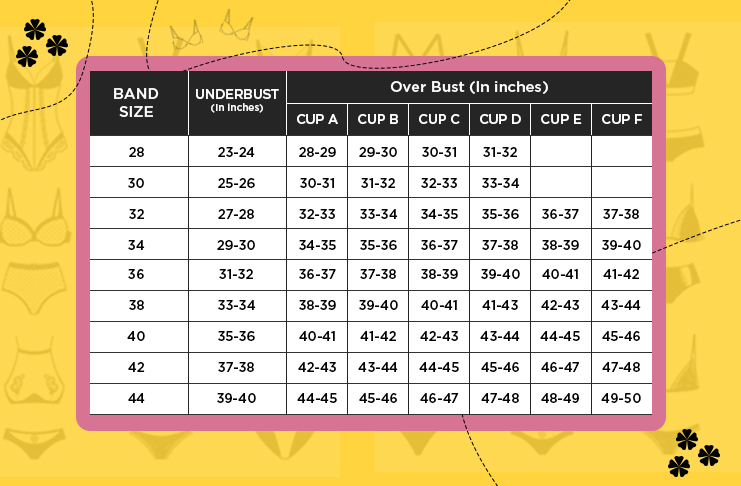 Measure your daughter's bust size
It is necessary to measure your teen like how you measure yourself to find out the bra size. It may be more difficult to find the correct fitting bra for a teenager. Hence measurements make things a bit easier to shortlist with the bra size. Here is the teenager bra size chart to help you with the picking of the right size bra for your teenager.
5. Get Beginners Bra Online
After deciding what type of bra your teenager should wear it is time to buy them at the right place, preferably online. Your teenager may feel shy to choose her very first bra at a physical store. Online shops offer quite a range of bras for girls that include all types of bras with quirky patterns and attractive colors that your daughter will love. Also with the ongoing offers you can buy training bras at a lesser price and save money.