Lots of women opt for shapewear these days. The necessity of having a sculpted and contoured look is the major reason women use shapewear. There is no doubt that shapewear makes women look flattering, which boosts their self-confidence. However, does regular use of shapewear help them lose weight? This is a billion-dollar question every woman has in her mind. Now, do you want to know the answer to the question, "Is shapewear for weight loss a myth or a fact?"
We firmly state that it's a myth! In other words, shapewear cannot reduce your weight. Does it sound a bit disappointing? We, too, feel the same! Imagine being able to shed those extra kilogrammes by simply wearing shapewear without the need for a diet or exercise to burn calories! Sadly, this is not the case when it comes to shapewear.
Let's delve deeper into this topic and understand why shapewear cannot be used for weight loss.
Shapewear for a Slimmer Appearance
Shapewear can only give you the illusion of a slimmer appearance. In other words, shapewear is designed to smooth or flatten your body, which is one of the reasons why you should wear a body shaper.
The different types of shapewear can make the cellulite on your thighs, tummy, and buttocks look less visible. They can help you appear sleeker and toned. For instance, have you ever seen a woman look like a mermaid when she wears a saree? It's because of sculpting saree shapewear.
Try this amazing saree shapewear from Shyaway!
Shapewear: The Compression Garments Every Woman Loves!
Shapewear "compresses" certain areas of the body. It can make you look and feel better because it hides all your bulges and prevents you from appearing podgy. Shapewear is slimming underwear that's perfect for body contouring. Just like the bras that will never go out of fashion, shapewear will also remain forever. Only the styles of shapewear may vary from time to time.
Tummy tuckers, as the name suggests, can be worn to make your stomach look flat by hiding its bulges. Take a look at these tummy-tucker panties from Shyaway!
Can Women Use Shapewear After Childbirth?
Many changes happen in a woman's body after childbirth. Women start wearing innerwear and outfits that they wouldn't have considered before or during pregnancy. It's the postpartum period when women explore and find out the functionalities of nursing bras, maternity outfits, and so on. It's also the time when many women feel like wearing body shapers, which can make them look more toned.
Wearing shapewear after childbirth is a personal choice. But you need to consult your doctor before doing so. Even if you use shapewear during postpartum, it will not have any impact on your weight.
What About Shapewear During Workouts?
Opting for shapewear while exercising is an absolute no-no. While working out, your body parts must be able to move freely. Since shapewear restricts your movements, it's definitely not advisable to wear it while exercising. However, you can go for better options like sportswear or activewear when you are at the gym.
Shapewear for Shaping the Figure: Some Tips
Choosing shapewear for enhanced body curves is a wise decision. But don't overuse it. Follow these tips if you are opting for shapewear.
Shapewear for weight loss is a myth.
Avoid wearing shapewear continuously for more than 8 hours.
Wear shapewear in the correct size. Find which part of your body needs shaping, and pick your shapewear accordingly.
Avoid using shapewear in a size that's less than your correct size. Yes, many women do this without realising that this practice is harmful to their bodies.
While shopping for shapewear online, keep the outfit you plan to wear in mind. This is one of the aspects women keep in mind while shopping for lingerie, like shapewear.
Shapewear is like your second skin. Therefore, enjoy flaunting it in comfort and style!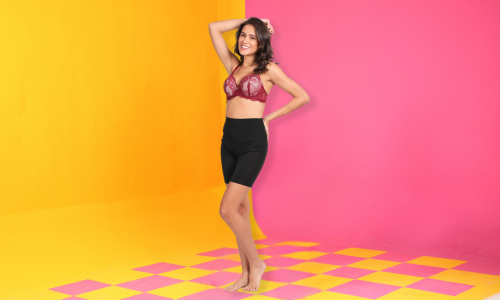 Use Shapewear for the Right Purpose
By now, you would have the answer to your question, "Can shapewear reduce weight?" They are meant for a firmer and smoother appearance. They only hug the body tightly to make you look sculpted and toned. But they are surely not meant for weight loss.
But you know that there are several other benefits to using shapewear. Just try wearing one to find out if it serves the purpose. See your body bulges disappear and stride in pride!