Has the lockdown locked you down from dressing up? Here's a chance to look killer and comfortable all at once while you work from home. Yes, Shyaway is here with the latest pyjama set collection for women this September to help you deal with quarantine sickness. 
How to Choose a Pyjama Set Online?
Look for breathable fabrics

Pick pleasant colors and prints over darker tones 

Avoid embellishments and heavy embroidery

Choose pjs that are easy to wash

Use the size guide 
Shyaway's Top Picks
1. Shyaway Red Geometric Print Nightwear Pyjama Set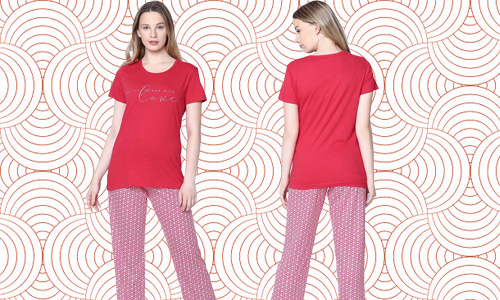 Tailored in ultra-soft cotton, this super-cute red pyjama set is a must-have in your summer closet. With a stylish red Tee and a pair of printed trousers in pink, this set is one of the best sellers that you can rely on no matter what chore you do. 
2. Shyaway Powder Blue Floral Print Nightwear Pyjama Set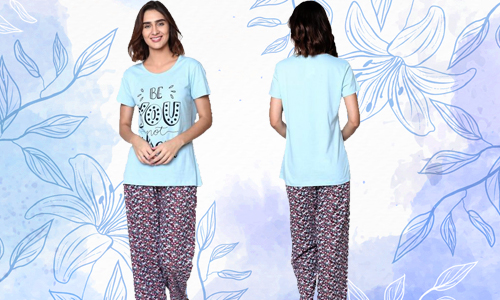 For all you floral lovers out there, this sleepwear right here is a great addition to your collection. The pleasant blue Tee that comes with this set is contrasted by a pair of multi-colored pyjamas. Simply tie your hair into a pony and flaunt this super-breathable powder blue PJ set to lounge in style.
3. Shyaway Cobalt Blue Hand Love Print Nightwear Pyjama Set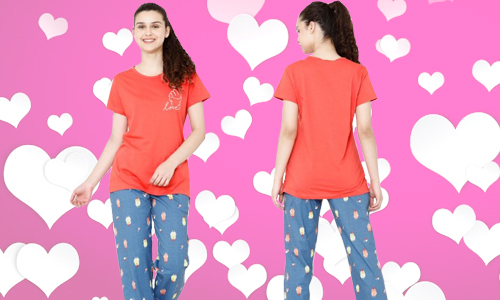 One of the newest additions to our sleepwear collection is this vibrant cobalt blue pj set with trendy hand love prints. The tone of this dress is so lively that you can't stop yourself from wearing it outside. Grab this for the next pj party with your girl gang.
4. Shyaway Red XOXO Penguin Print Nightwear Pyjama Set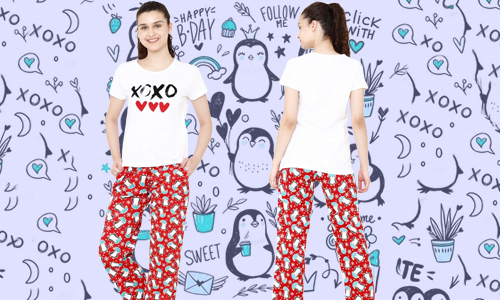 Tired of running behind work schedules? Take a breather and relive your childhood days with this gorgeous red pyjama set. The penguin printed jammies of this set are so adorable and can be paired with any top of your choice. 
5. Shyaway Green Chicken Print Crop Tee Jogger Pants Nightwear Set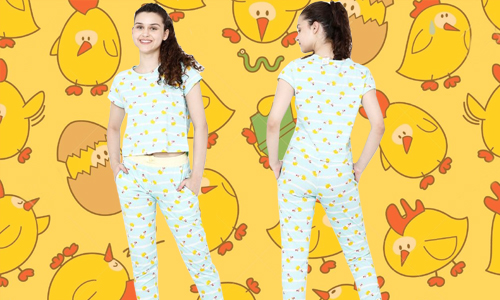 So this pj set right here isn't a mere nightdress. It clubs a chic crop top and a pair of jogger pants in a beautiful shade of green. Be it for an evening walk or a sweaty workout, this nightwear set works wonders. 
5. Shyaway Multicolor Floral Girl Print Nightwear Pyjama Set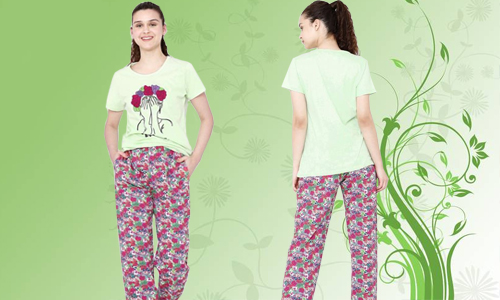 We love this pj set for the new-age vibe it oozes. With a cozy Tee and a contrasting pair of jammies, this loungewear is a perfect piece of clothing for the women of today.
6. Shyaway Pista Green Piggy Why Print Nightwear Pyjama Set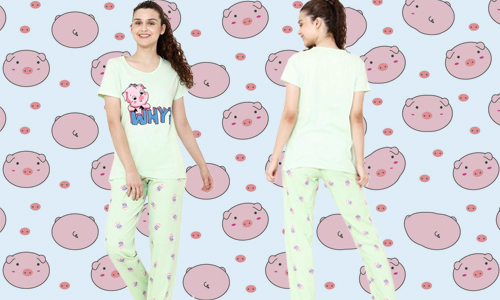 Trust us; your kids are gonna love the prints on this pj set's Tee. Our pista green 'piggy why' nightwear is a perfect choice of outfit for a carefree playtime with your children. After all, there is nothing better than spending a fun-filled evening with your Lil' ones. 
Importance of Wearing the Right Pyjama Set
We highly recommend that you spend an extra minute in choosing the right nightwear. This will ensure you have a cozy, relaxed, and uninterrupted sleep or lounge time. After all, sleep is the best meditation ever!