The monsoon is here! It's the perfect time for a stress-free trip. Connecting with nature can take away all your worries and stress, but travelling in the monsoon is indeed a challenge. When you think of those beautiful hill stations, drizzles, and dark clouds, you will feel the magic of travelling. The monsoon is one of the most beautiful seasons to travel with family and friends. On the other hand, this season requires a special type of dressing, including appropriate lingerie. If you're ready for a trip, this travel lingerie guide for the monsoon season will be useful.
Don't worry about finding the right monsoon-friendly lingerie, because we've got you covered! Our guide will help you get the perfect lingerie for the monsoon season. Stay cool with our monsoon bra trends and check out all our suggestions regarding lingerie for travel!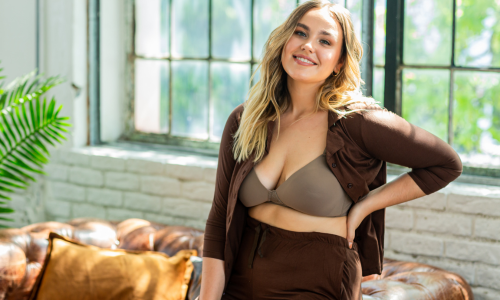 A Look at the Must-Have Lingerie for Monsoon Travel
From choosing the right fabric to wearing the best lingerie styles, we have all the monsoon travel lingerie tips ready for you. Read on to find out more about our monsoon lingerie guide.
The Importance of Choosing the Right Fabric
When you pack your monsoon travel lingerie, the first thing you must focus on is the fabric. Select thick outfits and suitable bras and undies that complement those outfits.
And you don't know when you'll be drenched in a sudden downpour. So, it's advisable to carry cotton lingerie, as it is light and easily manageable. Such breathable lingerie will dry in no time.
Check out this casual cotton bra from Shyaway, made of high-quality cotton!
Cotton panties also act as fantastic absorbents and are best for the season.
Try the Seamless Look for the Monsoon
Seamless bras are a hassle-free option on rainy days. Sometimes, when a wet outfit sticks to your bra and panty, seam lines become visible. If you feel uncomfortable with your lingerie showing through your outfit, wear a seamless panty along with a seamless bra.
Try Shyaway's Printed Seamless T-Shirt Bra!
Keep Scarves and Shrugs Handy
Scarves go well with all outfits, making them a must-have in your travel lingerie essentials. Scarves not only set your style point on fire but also provide warmth and protection. If you get wet in the rain, your outfit might reveal your skin if you wear thin clothes. During that time, a scarf will act as a saviour.
Take a look at our Printed Viscose Scarf!
Shrugs will also provide you with the same benefits as scarves. But you can also pair shrugs with a camisole and jeans. Shrugs are lightweight and offer a cool, trendy, and elegant look.
Carry Some Babydolls to Look Gorgeous
Are you planning a honeymoon trip this monsoon? Babydolls will be the perfect choice for you!
You can stay sensuous in any season with babydolls from Shyaway. Our gorgeous and glamorous babydolls are made with soft fabric. We have a wide range of babydolls and their vibrant colours will brighten up your day.
Discover the exquisite allure of our Red Lace Babydoll at Shyaway.
Go for Bright Hues and Printed Patterns
Rainy-season lingerie need not be boring. You can add some bras or lingerie sets with bold colours and designs while packing lingerie for monsoon trips. Gloomy weather and bright-coloured bras will complement each other. Printed lingerie will definitely take your travel mood to another level.
Introducing our go-to printed lingerie set, stylish and supportive for your on-the-go needs.
Suitable Sleepwear for the Night
Here is one of our monsoon travel wardrobe ideas! At night, you can go for sleepwear or nightwear like pyjama sets or nightgowns that will keep you warm and comfortable during rainy days. Snuggle into these clothes for a peaceful night's sleep.
Transform your nights with the irresistible charm of the Shyaway Pyjama Set.
Opt for a Sports Bra for Workouts
Monsoons can be difficult for fitness enthusiasts. Investing in moisture-wicking bras is essential to prevent skin irritation and discomfort while exercising.
For low-impact activities, consider using the Racerback Sports Bra, which provides ultimate support. It features a trendy racerback that allows for a wide range of movements and excellent breathability.
Try Shyaway's Racerback Sports Bra!
While at it, get to know how to find the right sports bra for your breast type.
Ensure You Carry Shyaway Bra Bags with You
Maintaining your lingerie for monsoon travel is as important as purchasing it. Your bra's lifespan depends on how you organise and store it. During travel, the pads in your bras might get crushed. So, it is advisable to store your bras in a bra bag, which will prevent them from getting crushed.
Explore the world of Shyaway bra bags, available in an array of captivating designs and vibrant colors. Discover the perfect bra bag to complement your style!
Have Fun While Packing Lingerie for Monsoon Trips
We know you're really excited about your monsoon travels. All the above-mentioned comfortable monsoon lingerie essentials are must-haves for your trip. Stay chic and warm, and simultaneously, brighten up your style quotient.
I hope you find our travel lingerie guide for the monsoon helpful. Ensure you have our monsoon lingerie collection handy to become a fashionista and perfectionist. I wish you a safe yet adventurous trip!