When you pick up a bra and wear it, do you wonder if it fits you perfectly? Do you find that your breasts are spilling? Relax! We are here to resolve all your issues related to bra fitting. In our fast-paced lives, where time is money, we don't stop to think. This goes for lots of tasks, including wearing a bra! We tend to wear our bras in a hurry without even ensuring that we feel comfortable in them. In this blog, let's understand how to wear a bra using the scoop and swoop bra fitting technique. So, shall we dive right in?
Why Should You Use the Right Technique to Wear a Bra?
A bra is something that a woman uses every day, whether at home or in a professional setting. Choosing the right, well-fitting bra can dramatically alter a woman's profile. It gives proper lift and comfort to the breasts and helps women feel more confident when they wear it. However beautiful, stylish, and perfectly sized your bra is, it cannot give you the desired appearance unless it's worn properly. If your bra doesn't fit you well, it can cause breast spillage, underwire poking, and other issues.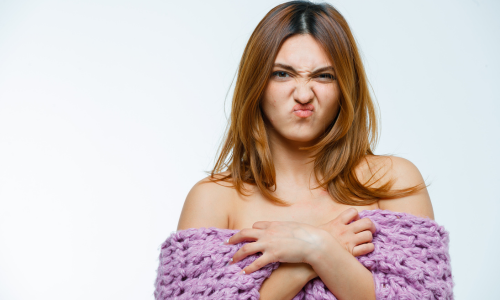 And do you know the advantages of a proper bra fit? Here they are!
A well-fitted bra can prevent shoulder, neck, and back pain.
It helps make your breasts look rounder.
It can help prevent breast sagging over time.
Let's now take a look at the scoop and swoop bra fitting technique that you must follow every time you wear the bra!
The Scoop, Swoop, and Split Bra Technique
The scoop, swoop, and split bra technique is a popular method used by many women to achieve a more secure and comfortable fit. This technique helps ensure proper support and alignment for a flattering silhouette. It's an effective way to maximise the benefits of a well-fitted bra and enhance both comfort and appearance. Read on to learn about the technique.
Don't you worry! It's definitely going to be simple and easy. So, let's get on with the three "S" of bra fitting…
Step 1: Scoop and Swoop!
Put on your bra the usual way and fasten it (just hook it up at the back).
Bend slightly forward at the waist. Now, your breast tissue falls forward. Don't straighten up!
Using your left hand, hold the left side of your bra at the place where the cup and the band meet.
Done? That's terrific!
Reach inside the cup using your right hand and cup your breast. This is scooping.
Pull the breast tissue up and towards the centre of your cup (away from your armpits). This is the swooping part.
Repeat the above procedure for the other breast. Ensure that your breasts fill the cups.
Straighten up and let your breasts settle comfortably in their places.
And that's scooping and swooping! Sounds interesting, right?
After completing the procedure, sometimes you'll find the top edge of your bra cups cutting into your breast tissue. This can result in quad-boobing, an effect where you'll look as if you have four boobs (breasts). It happens if your cup size is too small for you or your bra style does not suit your breast type. So, just get a bigger-sized cup. Check out the different breast shapes and their bra suggestions.
If you find some space at the top or bottom of the cups, go for a smaller cup size. An advantage of scooping and swooping is that you'll know if you must get a bra of a bigger or smaller size, thereby avoiding some common bra mistakes.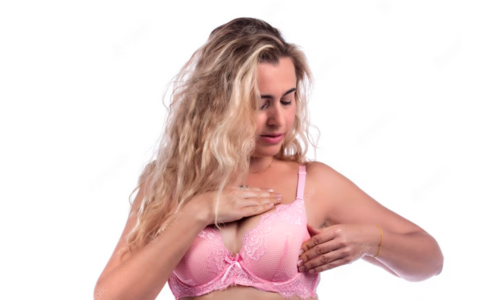 Step 2: Split!
Take both your index fingers.
Using them, separate (or split) your breasts at the centre.
Confirm that they are comfortably settled into the respective cups of the bra.
By carefully following the steps, you will experience a remarkable difference while wearing the bra.
I hope you've gotten the hang of the scoop and swoop bra fitting technique. You can now wear that beautiful dress that flatters your figure with confidence!