Panties are a form of underwear with an elastic waistband. No-one wants the awkward stains to be visible on their outer-garments, so the panties are provided with a crotch panel to keep the undergarments from being spoiled by sweat, urine, or vaginal discharges. Nowadays women tend to develop many vaginal infections such as Candida, Bacterial vaginosis, etc. The material your panties are made of may also determine the risk of your infection. Choose panties that make you feel good and comfortable all day. Just like our breasts need bras for support, our genitals also need panties for support, so make sure to choose panties that are made of breathable and moisture-wicking fabrics. That is exactly when you need cotton panties, they are the perfect types of panties that suit any skin type and best for regular use, and the cotton panties are considered the best underwear for women's health.
Why Should Women Wear Cotton Panties?
As we all know, the vagina is a sensitive organ so you cannot wear a material that might not be suitable for the area, it can lead to many serious health issues. Cotton is the best material for underwear. Cotton panties are preferred by many women as they are light-weight and absorb moisture immediately. They make you feel comfortable all day long even during intense workout sessions. Cotton panties can be your best companion during menstruation as they help you hold your pads/tampons in place without any difficulties. So it is always advised to choose cotton panties over fancy panties that are made of rough material, especially for everyday use.
Features of Cotton Panties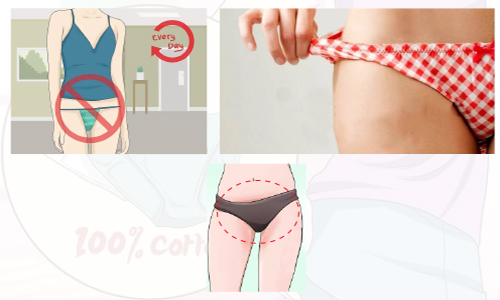 The three main features of cotton panties that make them loved by every woman are:
Prevents infection: Underwear made with synthetic material can cause vaginal infections as they are not breathable and produce heat. Cotton panties are breathable and provide sufficient ventilation.
Eliminates odor: If your panties are trapped in moisture, there may be a development of bacteria that might result in a bad odor in the vaginal area. Cotton panties are usually moisture-wicking and dry the area around shortly. So this obviously helps in preventing vaginal odors.
Prevents itching: There are many reasons why the area around your vagina can cause an itching sensation. One of the main causes can be the type of panties you wear. Cotton panties are usually light and soft on your skin so it prevents itching and harsh rashes if that is the reason for your itching sensation.
What Is the Best Season to Wear Cotton Panties?
Cotton panties are the best panties to wear in every season. During summers, cotton panties can be a lifesaver as they absorb the sweat and allow the area to breathe well. And during winters, wearing cotton underwear can make you feel comfortable and cozy. Read our tips to choose your summer lingerie wisely.
Best Cotton Panty Styles for Women in 2020
We have listed different types of cotton panties that every woman must need:
The Lacy Cotton Underwear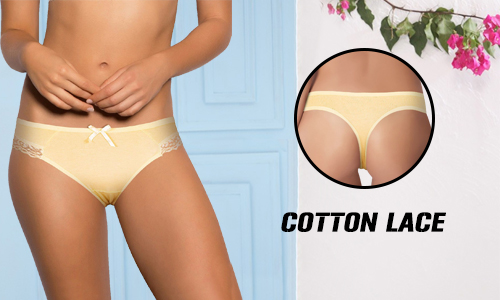 The lacy underwear with frills might be great to wear for certain occasions to flaunt your sexy outfits, but they are usually made of synthetic fabrics which might cause irritation, redness, etc. Wearing these types of panties with rough and non-breathable material on a daily basis can develop itching and many other vaginal problems. But, if you prefer to be sexy and feel comfortable at the same time in whatever outfit you wear, then you can opt for these gorgeous lacy cotton underwear. Cotton is the best material for underwear. Cotton allows you to feel good, the lacy part gives you the perfect sexy look.
Cotton Thongs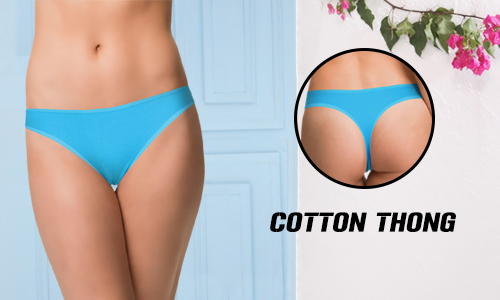 Thongs are generally designed to only cover the genitals leaving most of the buttock uncovered. The main reason why it is chosen by women is, we can avoid the visible panty lines through your dresses. No matter how thin your panties, it will always leave the panty marks when wearing tight bottoms or jeans. Another important factor why women wear thongs is that they are flawlessly sexy to wear, you can completely flaunt any outfit. There are many types of thongs available in the market including G-string, C-string, etc. You can choose the right one that goes with your outfit. Cotton thongs are the best as they are completely safe on your skin so it is always advised to choose cotton thongs if slaying outfits with comfort is your pick.
Cotton Hipster Panties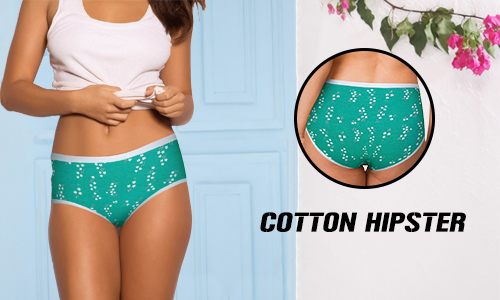 Hipster panties are a combination of both boy shorts and bikinis. They are considered the best women's underwear. They are designed in a way to fit perfectly on your hips and few inches below your waistline. Hipster panties are usually made of thicker fabrics that flatter your figure and completely allow you to show off your figure. The Hipster panties usually have a lower leg line and they come in different fabrics such as lace, mesh, cotton, etc. It is usually safe to choose cotton hipster panties as they are skin-friendly and prevent vaginal infections. There are different coverages available in the hipster panties such as full-coverage, half-coverage and many more. You can choose the right one that fits your outfit.
The Boyshorts Panties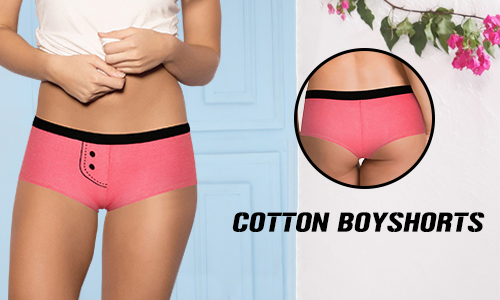 Boyshorts are modeled after men's boxer shorts in a more rectangular shape. Over the years, women have started loving the boyshorts as it is the most comfortable one to wear while sleeping. They are designed in a way to fit perfectly around your curves. They are similar to hipster panties but with a lower leg line. Boyshorts panties can be worn under medium to high rise pants. In the beginning, boyshorts were only designed with thicker material but now there are many pretty versions of boyshorts available. But it is always better to choose cotton boyshorts as they can be a perfect companion giving you the cozy feel during winters.
Bikini Panties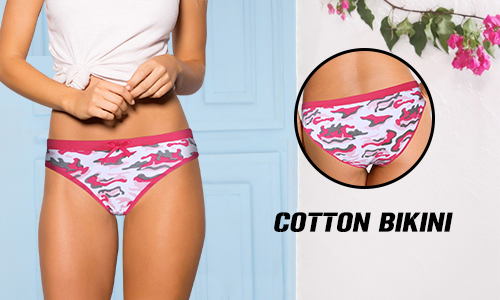 Bikini panties are a type of underwear that looks like a bikini bottom. Bikinis are popular and trendy these days as they are a unique blend of comfort and style. Bikinis usually are low-rise providing minimum coverage to the buttocks. They are designed to fit on or a few inches below the hips so it can be perfect when wearing low-rise pants. There are many variations of bikini panties that come in different fabrics including silk, cotton, etc. But cotton panties are the best as it is skin-friendly and great for daily use. The bikini panties can be worn under low-rise skirts and denim.