Different Type of Sleepwear
Have you wondered how serene it would be to wake up like Bebo from Kabhi Khushi Kabhi Gham? Well here is a chance to become your own favourite with an on-trend sleepwear range from Shyaway.  
What Are the Different Types of Sleepwear?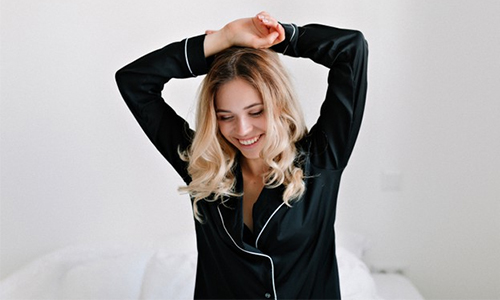 We are not men, even our hobo clothes should make a classic statement of our choices and preferences. Check out this wide range of women's sleepwear and shop your favourites at once.
1. Pyjama Set
A pyjama set has been an age-old option when it comes to nightwear. A Pyjama set has always got our back from no shave winters to sleepover at a relative's place.  It is a must-have for every woman. Pyjama range of women's sleepwear is not boring anymore. You can choose a cotton pyjama set to twin with your favourite K-Pop idol with lapel neck collars and full sleeves. You can also opt for a sleeveless laid back chic look during summer. Shop for on-trend sleepwear range before the good ones run out of stock.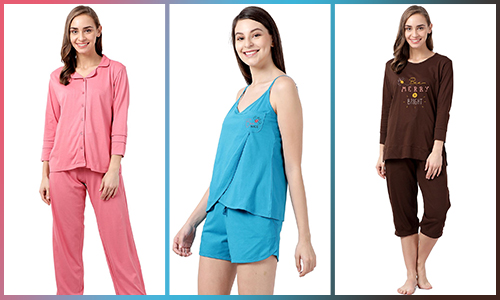 2. Shorts Set
From knee-length shorts to short shorts, a shorts nightwear set has stolen the hearts of women in the tropical region. A solid top with a beautiful quote or an animal face with printed shorts has secured a stable place in every woman's wardrobe. From spaghetti-strapped tulip hemlines to sleeves or sleeveless tops, shorts set in vibrant colours add quirkiness to your overall look. Drawstrings provide double security, and the pockets make these cute shorts set perfect for outdoor wear too. Choose your favourite shorts set from Shyaway's wide range of women's sleepwear.
3. Capri Sets
Well, wearing shorts in a few households may be difficult, and that's where these adorably attractive Capri sets come into the picture. They are simple, trendy and are available in eye-catching colours. From plain to tulip hemlines along with elastic waistbands and drawstrings, these cotton Capri sets stitched with pockets are the most desirable sleepwear option irrespective of the season. You can also run errands without feeling uncomfortable in public.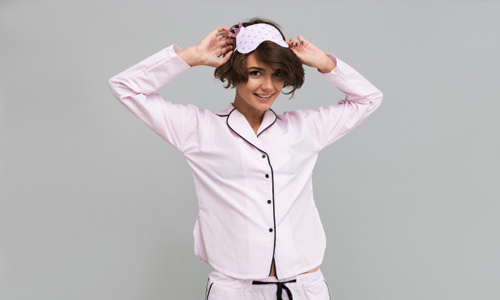 4. Nightgowns
Modern women should wear modern nightgowns. Ankle length nighties constrict your movement and are available only in boring colours. On the other hand, though these may not be as sexy as your partner's shirt, short nightgowns still make do for a snug nightdress. Choose between a sleeved or sleeveless nightgown that is either solid or printed to wear from Shyaway's on-trend sleepwear range at a flat 20% off.
5. Babydolls
Babydolls are not necessarily dedicated to honeymoons. You can wear Babydolls when you want to spice things up with your partner or simply because you want to wear one. Hollywood mostly influences sexy sleepwear in India, and you can shop for the most alluring Babydolls from Shyaway. Though black and red are desirable colours in achieving an enigmatic look, Babydolls are also available in various other colours. From teasing mid-thigh to sultry full-length robes, Babydolls are predominantly made of lace and mesh that leaves nothing for imagination.
6. Chemise
A chemise is the goody-two-shoes version of Babydolls. Women who are too shy to wear Babydolls or just want to spend a night alone like Diva often opt for a chemise. If you're testing boundaries in your new relationship or want to take things slowly, then wear a chemise and master the art of subtle hints. Shop for sexy sleepwear in India at Shyaway, and don't shy away. From provocatively transparent to layered with frills, a chemise should not be missed.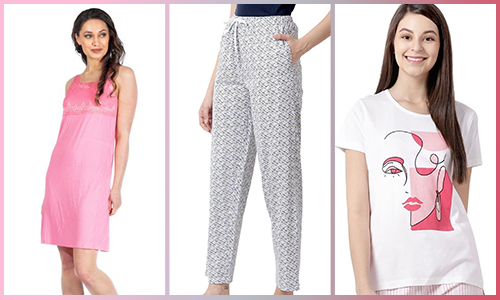 7. Camisoles & Slips
Here is your saviour, all the singles out there who are bored seeing overly girly Babydolls and chemises. Rock the laid-back chic attitude and still spoil yourself by too much pampering with this camisole range of women's sleepwear. You can use them as slips every day or just wear them as sleepwear alongside a matching panty or shorts. Style yourself like a plain-looking doe or deck up like an enchantress in lace. Shop sexy sleepwear in India at attractive prices now! 
8. Loungewear
Loungewear is not essentially sleepwear as it can be worn outdoors as well. Browsed through all the Pyjama sets, Shorts sets, Capri sets, and Babydolls but still couldn't find the outfit that spoke to you? No worries, we have just the thing for the rebel inside you. Then mix and match should be your go-to option at Shyaway. Shop for printed pants and printed/plain tees separately at mind-blowing prices. Who cares if you wear a jogger set that has elastic waistbands and drawstrings stitched with side pockets and contrast tapes to bed.