Exploring the Benefits of Padded Bras for Women
Bras are primarily designed to offer support to your breasts, but what if they could also provide enhancement for a fuller appearance? This is where padded bras come into play. They incorporate padding materials like foam, gel, or water. If you desire a slightly larger bust, padded bras with gentle padding are an option. However, there are numerous other reasons why women opt for padded bras. This article will delve into the benefits of padded bras and shed light on why they're a preferred choice for women.
Unveiling the Benefits of Padded Bras
Padded bras have become an indispensable choice for women, offering a range of benefits that enhance both comfort and confidence. From addressing breast symmetry to providing a seamless look under clothes, these bras come in various types, including push-up and sports options. Padded bras cater to diverse needs, making them suitable for everyday wear as well as special occasions. Whether enhancing natural shape or ensuring support, they offer a confidence boost while avoiding nipple show-through. With different styles, cup sizes, and fabric options, Indian women can choose padded bras that align with their preferences and body type. This article delves into the reasons why padded bras have become a staple in modern women's wardrobes, dispelling myths and offering insights into their advantages.
Why Do Women Wear Padded Bras?
Apart from enhancing your breasts, padded bras also have other benefits. These are the top 10 padded bra uses that make women opt for it.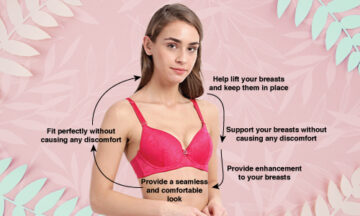 1. For women with sagging breasts, padded bras can be a great companion. It will help lift up your breasts and keep them in place. If you have large saggy breasts, you can opt for lightly padded bras so that you can get the right support, enhancement, and lift that suits your body shape.
2. For those of you who cannot find the bra that would give that extra support, padded bras are great. The padding allows it to support your breasts without causing any discomfort. This is one of the major reasons why women opt for padded bras.
3. Providing enhancement to your breasts without compromising your overall body shape is the major advantage of padded bras. Whatever outfit you opt for, it allows you to have a flattering figure.
4. If you are wearing body-hugging outfits, padded bras can be a great choice. It fits right onto your breasts and provides a seamless and comfortable look. You need not worry about visible bra lines anymore as they perfectly fit your breasts leaving a smooth flattering finish.
5. It is a common myth that padded bras are uncomfortable. It is not true if you buy high-quality padded bras. They are made of soft and stretchy material, hence can fit perfectly without causing any discomfort.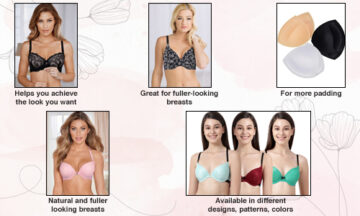 6. Wearing comfortable and well-fitting clothes invariably boosts your confidence. Choosing a padded bra aids in achieving your desired appearance, allowing you to exude confidence regardless of the outfit you choose.
7. One significant distinction between padded and unpadded bras lies in the added volume they provide. Women seeking a fuller bust appearance often find padded bras to be an excellent option.
8. In recent times, women who are accustomed to wearing molded bras are also transitioning to padded bras. The primary distinction between molded and padded bras lies in the extent of padding. If you desire additional padding, padded bras are the solution for you.
9. Another reason why women prefer padded bras is their suitability as an alternative to push-up bras. For those seeking a natural and fuller bust appearance, padded bras are the preferred option. Push-up bras often focus on cleavage enhancement, sometimes yielding a less natural look. This stands as the primary distinction between padded bras and push-up bras.
10. We can all agree that we often seek diversity in the bras we wear. This is a key reason why many women opt for padded bras. These padded bras come in various types with different designs, patterns, and colors. As a result, individuals can select the one that best suits their preferences.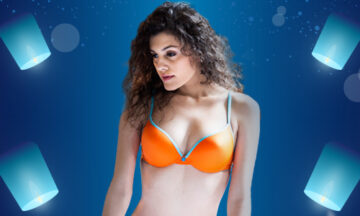 Is it advisable to wear a padded bra daily? This is a frequently pondered question among women. If you're considering padded bras for daily wear, opt for those with gentle padding. It's essential to select the correct size bras crafted from skin-friendly materials. Wearing tight and subpar-quality bras daily may lead to discomfort, skin irritation, redness, and rashes. This is the key to comfortably wearing padded bras every day!
Conclusion: Embrace the empowerment that comes with choosing a padded bra – an ally that seamlessly marries style and functionality. As you reflect on the manifold benefits, suitability for daily wear, and the boost in confidence they provide, the decision becomes clear. Whether enhancing your natural form, seeking versatile support, or cultivating comfort, the padded bra stands as a wardrobe essential. Elevate your lingerie collection and confidently step into a world where comfort, style, and self-assuredness coexist harmoniously.