Bras are basically invented to provide support to your breasts but if can provide enhancement to make your breasts appear bigger? This is why padded bras were invented. They come with a padding material that can be foam, gel, or water. If you prefer slightly larger breasts, you can opt for padded bras with slight padding. But there are several other reasons why a woman should wear a padded bra. This article will explain to you everything about the benefits of padded bras and why women choose them
Why Do Women Wear Padded Bras?
Apart from enhancing your breasts, padded bras also have other benefits. These are the top 10 padded bra uses that make women opt for it.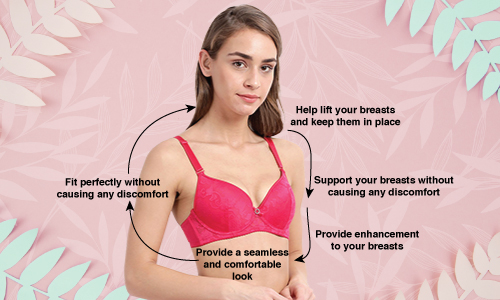 1. For women with sagging breasts, padded bras can be a great companion. It will help lift up your breasts and keep them in place. If you have large saggy breasts, you can opt for lightly padded bras so that you can get the right support, enhancement, and lift that suits your body shape.
2. For those of you who cannot find the bra that would give that extra support, padded bras are great. The padding allows it to support your breasts without causing any discomfort. This is one of the major reasons why women opt for padded bras.
3. Providing enhancement to your breasts without compromising your overall body shape is the major advantage of padded bras. Whatever outfit you opt for, it allows you to have a flattering figure.
4. If you are wearing body-hugging outfits, padded bras can be a great choice. It fits right onto your breasts and provides a seamless and comfortable look. You need not worry about visible bra lines anymore as they perfectly fit your breasts leaving a smooth flattering finish.
5. It is a common myth that padded bras are uncomfortable. It is not true if you buy high-quality padded bras. They are made of soft and stretchy material, hence can fit perfectly without causing any discomfort.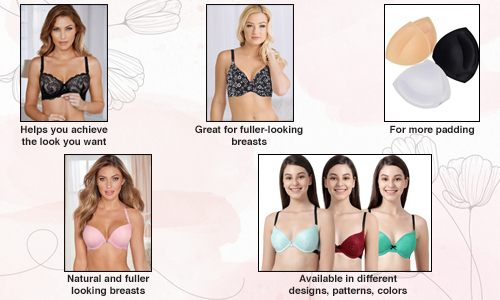 6. Good and comfortable clothes always make you feel confident. Wearing a padded bra helps you achieve the look you want, hence irrespective of the dress you wear, you can roam around with greater confidence.
7. One of the major differences between padded and unpadded bra is the additional volume. For women who want to opt for fuller looking breasts, padded bras are a great choice.
8. Nowadays women who use moulded bras are also moving over to padded bras. The major difference between moulded and padded bras is the amount of padding. If you want more padding, padded bras are all you need.
9. Another reason women opt for padded bras is that it is a perfect replacement for push-up bras. For those who opt for natural and fuller looking breasts, padded bras are the only choice. Push up bras concentrate mostly on cleavage and leaves on a more unnatural look. It is the foremost difference between padded bras and push-up bras.
10. We all must agree that we somehow want variations in the bras we wear. Padded bras are chosen by numerous women for this main reason. There are different types of padded bras that come in different designs, patterns, colors. Hence, one can choose the right one of their choice.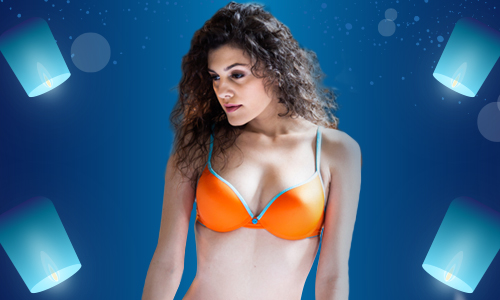 Is it good to wear a padded bra for daily use? This is one of the common questions every woman has in their minds. If you want to choose padded bras for daily use, you can prefer them with slight padding. But make sure you choose the right size bras made with skin-friendly material. For daily use, tight and low-quality bras can cause discomfort, skin irritation, redness, and rashes. This is how to wear a padded bra for daily use!