Firstly, how many of you put some serious thought into wearing a bra to bed? You simply don't change the bra for the whole day or wear an old, worn-out bra that you never throw away. While we insist on comfortable sleep bras.
Tips for Buying the Best Sleep Bra
1. Always Look for Natural, Lightweight, Breathable Fabric
You should always stick to natural fabrics such as cotton, bamboo, wool, and jute because they are breathable. The natural fibres in Shyaway sleep bras are super absorbent. They are hypoallergenic in nature, have anti-bacterial properties, and protect you from microbes during sleep. They are suitable for both hot and cold conditions.
2. Skip the Boning and Wires
You know the wireless bra becomes more flexible and comfortable as the cup adjusts itself to the shape of your breasts. Eventually, there's room for freedom of movement and fewer restrictions on your body. It allows better blood circulation and energy flow throughout the body. You can also avoid any potential skin injury and discomfort.
3. Consider a Soft Cup Bra
You must think about soft-cup bras to prioritise your comfort during sleep. A soft-cup bra gives natural support and gently hugs your breasts. It doesn't suffocate you, and there's no irritation at all. You can feel free and protect your sensitive breast tissues from unnecessary pain. Enjoy the sense of freedom and lightness of a soft-cup sleep bra for a refreshing bedtime routine.
4. Non-Adjustable Straps are Good
You already know the different types of bra straps available on the market. We recommend you choose the best sleep bra that comes with non-adjustable straps. But why? It's simply to avoid rigid sliders, hooks, and rings. When you buy a sleep bra, make sure the plastic parts of the bra don't dig into your skin when you toss and turn on the bed. You can opt for pullover bras to avoid hook-and-eye closure at the back.
5. Don't Underestimate Removable Padding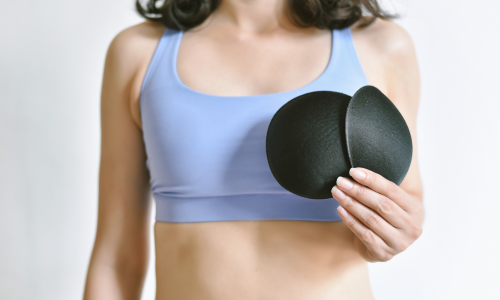 Sleep bras with removable pads give extra support, cover up your nipple, and shape your breasts. You can remove or add the pads according to your level of comfort. For example, you can wear a pad on the left or right breast to cover up the unevenness of your breast. You can also sleep with the pads off and wear them after you wake up.
Deciding what type of bra to wear to bed should be a fairly simple decision. You need to consider factors including fabric, style, size, and price. Ultimately, the best sleep bra is the one that meets your individual preference and makes you feel comfortable.