Whether your workout involves walking, running, jogging, zumba, sports, or the gym, you'll need good sportswear. Investing in high-quality activewear will help you workout with ease. It will also give you a comfortable experience on the whole. A nice pair of workout leggings is essential, just like you need a sports bra during workouts. Are you willing to know the benefits of workout wear? If you take your workout and health seriously, you should read the reasons to wear gym leggings before you hit the gym. 
Top Reasons to Wear Gym Leggings When You Exercise
You'll look great. It will make you feel fantastic. Good-fitting gym leggings will motivate you. And what not? There are many positive outcomes when you wear compression workout leggings during exercise. 
1. Comfort
Good gym leggings create less friction than any traditional leggings. They hug your body and make you feel comfortable and confident. This means, there's less chance of chafing. When searching for workout leggings, you should always look for ones that are specifically designed for exercises and workouts. Shyaway workout leggings are breathable and made of moisture-wicking fabric that will keep you dry and clean during workouts. 
2. Unrestricted Movement and Flexibility
Whether you are running, lifting weights, or practising your favourite dance poses, you need unrestricted movement and flexibility. Workout leggings will give them all. It will feel like a second skin, ensuring freedom while you exercise. If your sportswear is comfortable, it will allow you to concentrate more on the task and achieve your fullest potential. To achieve your maximum potential, you need to choose leggings that allow a full range of movement during exercise. Read more about how to avoid camel-toe in gym leggings for full flexibility. 
3. Enhance Performance
One of the main reasons to wear gym leggings is to improve your performance during rigorous training. High-quality workout leggings will boost the amount of oxygen your muscles receive. It will give you more power and energy. The workout leggings will act like a shock absorber by reducing vibrations and strains. It also helps prevent muscle trauma. Getting enough oxygen to the muscles is important for optimal performance during workouts. 
4. Less Muscle Soreness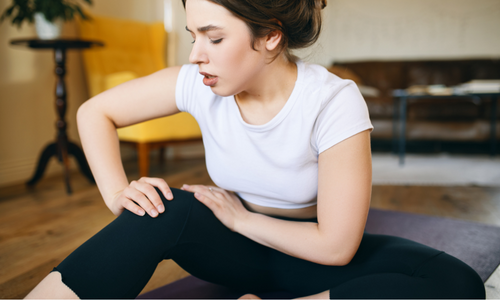 Compression workout leggings absorb strain on the muscles and reduce fatigue. It will increase blood flow to the muscle and speed up the muscle repair process. It also reduces muscle soreness during and after workouts. As a result, you can exercise better, faster, and longer without worrying about muscle fatigue. All you need to do is find a good fitted leggings. Here's how your workout leggings should fit.
5. Help Prevent Injuries
Many sports injuries occur due to the lack of appropriate sports gear, including sports clothing. Whatever activity you do, you should look for the perfect sportswear that protects you from strains or overheating. Gym leggings provide cushioning for the legs during workouts. It will also keep your muscles warm and compressed to reduce the risk of injuries. 
6. Dress for Success
You will feel good in workout leggings. If you feel good, you're motivated to work harder. If you are looking for good reasons to wear gym leggings, consider the style and comfort they offer. Don't forget to show off your physique! Leggings aren't boring! You can find high-quality compression leggings in a different range of colours, styles, patterns, and prints. 
7. Affordable
They are relatively affordable pieces of activewear. You can easily order them online at the best price. Shyaway's workout leggings are available for ₹799 and upwards. It is definitely suitable for people who are on a budget! What are you waiting for? 
There are a lot of reasons to wear workout leggings when you exercise. Try them on and enjoy the benefits yourself. 
Read Next – Why should you wear a workout jacket?