It is important for pregnant and nursing women to have supporting bras during pregnancy because they are comfortable for nursing and provide extended support to the breasts. During pregnancy, a woman's breasts are constantly changing, and finding the right nursing bra can be a daunting task. But don't be discouraged! Shyaway is here to help you find the best bra for pregnancy. You will find a lot of comfortable bras for pregnancy that will help you enjoy your breastfeeding experience. Interestingly, breastfeeding bras are one of the top lingerie searches on Google in 2019. So, you know there are thousands of people who are already buying feeding bras and nursing bras before and after their pregnancy!
How Does Breast Change During Pregnancy?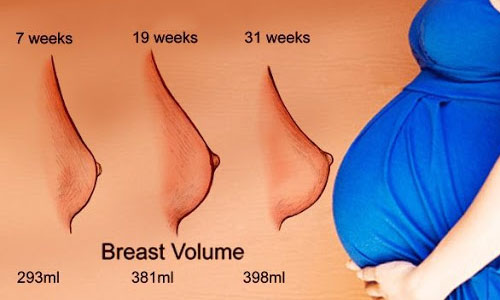 Well, where do I start! One of the first symptoms of pregnancy is the change in breast size. The extent of breast development in pregnancy differs among women, but on average women go up to one to three sizes over the course of their pre- and post-pregnancy. Fuller breasts and expanding waistline will require you to wear a bra/panty with larger band size. Wearing the best bra during pregnancy gives proper support to the breast tissues. You should also read breasts sag after pregnancy to be able to choose the best bra during pregnancy for support and comfort. If you still haven't considered a bra for a pregnant woman, this is the time.
How Breasts Change Post-pregnancy?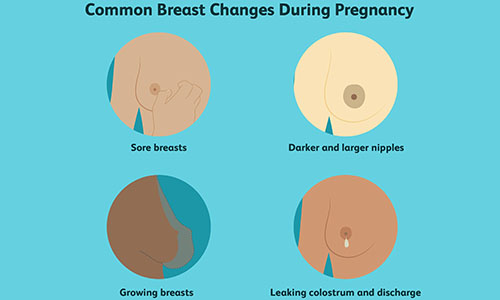 You will be able to breastfeed your babies with any breast size and shape. Studies prove that there is no correlation between breast size and breast milk production. You may experience a difference in the size of your breasts which will become normal when you start breastfeeding. You may experience slight changes in the breast size. Most women return to their pre-pregnancy band size with up to three sizes increase in the cup size than before. Your body and breasts are constantly changing during and post-childbirth, so it is important to re-measure your size for proper fit and size.
What is a Nursing Bra?
The nursing bra is perfectly designed for breastfeeding. The cups of nursing bras fold to expose the nipple for easy breastfeeding. The nursing bra is different from ordinary bras.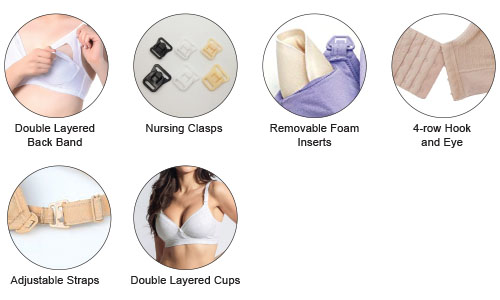 They have a double-layered back band for durability and support. They come with nursing clasps that are easy to open for feeding. It comes with removable foam inserts for the desired shape and absorbs excess milk secretion. Most of the feeding bras and nursing bras have a 4-row hook and eye back closure for stability and to meet the ever-changing breast size. They have adjustable straps for a perfect fit. Double layered cups are for extra comfort and support.
How do Nursing Bras Work?
Nursing bras are designed specifically for New mums. When you're preparing a post-baby-to-do-list, you need to include good quality nursing bras and breastfeeding bras that will accommodate your changing breasts. Nursing bras work to prevent your breasts from sagging after pregnancy. They are a savior to provide support, comfort, and prevent breast tissues.
How to Use a Nursing Bra?
You must use a nursing bra soon after childbirth. It will help your breasts stay firm and prevent milk leakage. Nursing bras and breastfeeding bras are easy and convenient for new mothers to feed babies without having to remove the entire bra.
When to Buy a Nursing Bra?
You should buy nursing bras during your 2nd and 3rd trimesters when your maternity bras and pregnancy bras no longer fit comfortably. You should buy a nursing bra when there is a need for a larger bra to support your growing breasts. Your breast size will change throughout your pregnancy cycle and after your milk comes in. You will need a nursing bra as long as you are nursing your baby. You may be interested to know these pro tips for easy nursing.
What Type of Nursing Bra Should You Buy?
A wide range of nursing bras are available in the market in different fabrics and styles. When you are pregnant, you need bras for maternity as well as nursing. You should buy nursing bras that have special pads during your early nursing stages. You may need different sizes of nursing bras throughout your pregnancy that can expand several cups and band sizes. Choosing bras without underwire is a better option. Don't forget to consider comfort and fit over designs and styles. If you are confused about finding comfortable bras for pregnancy, read our blog on which type of bra should women wear during their pregnancy.
Types of Nursing Bras from Shyaway
Comfortable, Fully-Adjustable Nursing Bra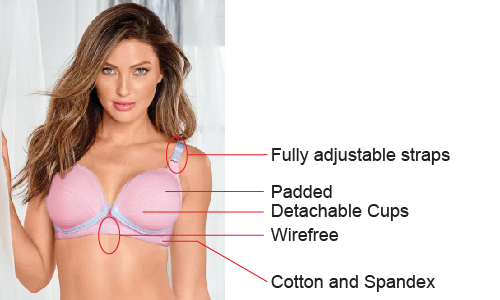 Designer Nursing Bra with Lace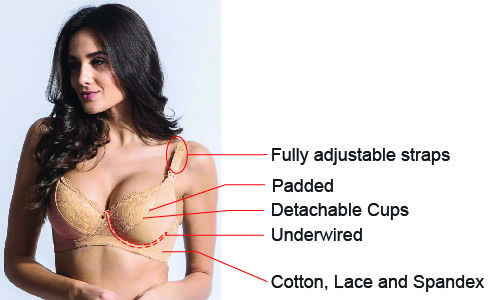 Day Time Lounge Bra for Nursing Mothers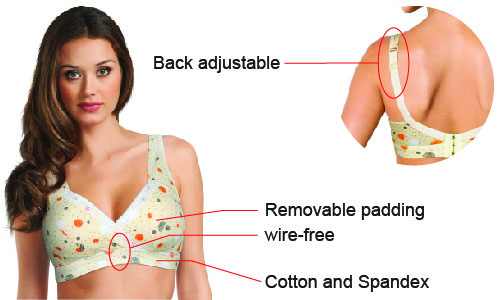 Lightly Padded Breastfeeding Night Bra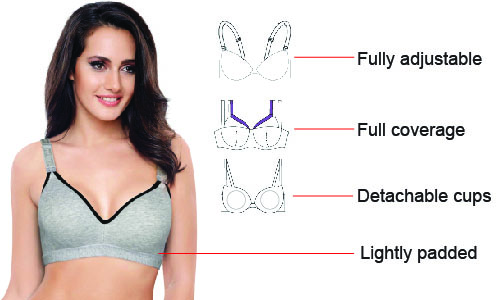 What Nursing Bras Are the Easiest to Use?
You have a wide range of nursing bras at Shyaway. The different styles include cross over pull-down style, cups that unhook from each side, cups that snap, and those that clip. You can get several nursing bras, feeding bras that will accommodate your lifestyle. If you plan to wear a nursing bra at night, you can choose a light padded pull-down bra.
Qualities and Features of a Good Nursing Bra
The top how to choose nursing bras. 
How to Get the Most of Your Nursing Bra?
Cup sizes and band sizes are going to change frequently during your pregnancy. You cannot afford to buy new bras every week/month. After you have your baby, your band size will gradually decrease. If you are buying a nursing bra during the last trimester, you need to buy bras that are not too tight around the band. All nursing bras have several adjustment hooks on the back to accommodate size changes. Look for a bra which you are able to fit properly in the last hook. You can also attach extenders that will allow you to extend the strap by several sizes.
Don't forget to follow the bra washing care tips to extend the life of your nursing bras. Read our instructions on Wear and care for your nursing bras to maintain your feeding bras.
How Many Nursing Bras Do You Need?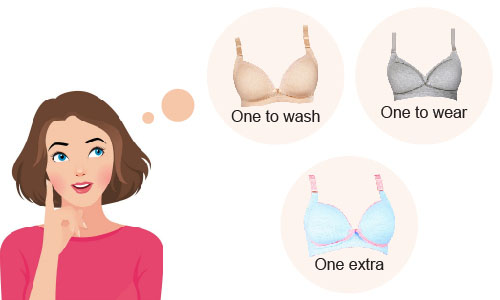 All new moms need a minimum of 3 feeding bras: one to wash, one to wear and one to spare. You can choose day time nursing bras, outdoor nursing bras, bedtime feeding bras to feel more relaxed knowing that you are prepared for unexpected leaks and hot flashes. Our tips to purchase nursing bras will be helpful for first-time buyers.
What Size Nursing Bra Should You Buy?
Measure your bust size and band size to know the perfect bra size. Use our bra size calculator to find the exact measurements. You will need a nursing bra buying guide to avoid top mistakes and to get the right measurements. Do not assume your sizes! Use a cloth measuring tape or a string and ruler to measure your size accurately.
How Often Should You Measure Your Bra Size?
You should measure your bras size as soon as you become uncomfortable with the current one. During pregnancy, your breasts are constantly fluctuating in size and you need to measure your bra size every time you feel discomfort.
A well-fitted nursing bra should fit on the loosest hook as your size will decrease gradually after you start breastfeeding your baby.
Where to Buy a Nursing Bra?
You can buy nursing bras online at Shyaway. We have the widest collection of nursing bras in different sizes, styles, colors, and fabric. You can buy high-quality nursing bras starting at ₹650 onwards. You can check our nursing bra offers to get the best deals and discounts.
How to Buy a Nursing Bra?
Measure your breast size when you feel uncomfortable
Browse through the various styles and options available
Choose 2 or more styles based on your lifestyle preferences and comfort level
Plan a budget and place your orders online.
Wear nursing bras and feel comfortable and confident in any outfit.
Treat yourself to some new nursing bras and new underwear to feel fabulous after childbirth. Here a quick glance of Shyaway maternity lingerie trends 2020 for new moms.